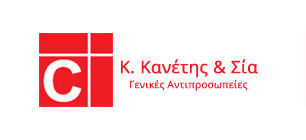 About Kanetis & Co
The history of C. Canetti & Co. begins in 1949 when it was founded by the brothers Karolos and Pavlos Canetti. The main occupation was the representation of reknown foreign firms with a wide selection of products, always paying attention to the quality and the services provided.
Since 1985 the founders' sons, Maximos and Isidoros Canetti, continued the ascendant course of the company, assisted from 2011 by the third generation with Karolos Canetti.
In 1998 the Company's headquarters was moved from the center of Athens to a privately-owned site, in Halandri, on Messogion Avenue. For 3 generations, the company continues to grow, increasingly meeting the needs of the Greek market, with an emphasis on the industrial and electrical sectors.
The aim and objective of the company is to offer high quality products and innovations alongside high standard services, meeting directly the needs of the market by introducing new products that will offer the best solutions to the professional.